Screen Goddess Anastasia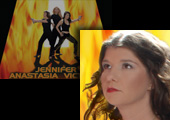 Professions Australia Young Professional of the Year 2006

I was born and bred in Ballarat Victoria but whilst travelling up the east coast and around Australia 11 years ago l became entranced by the warm weather, good career prospects and fantasticly friendly people of Darwin and subsequently still haven't made it home!! I will get to Broome one of these days.............
In Darwin things happen that may not happen anywhere else. For instance on a Saturday night l enjoy Rock sitting and saluting gorgeous sunsets with the Rock Sitters Club, an annual Ice Hockey Match at Mindil Beach(and yes we do challenge the world champions) and l've had a successful and diverse career holding many positions relating to ICT including Trainer, Systems Administrator, Lecturer, Project Manager, Systems Manager and Information Manager.
I get bored easily so l like diversity, learning and always have several activities on the go. l like to spend time in the outdoors and unwind with Karate, running (or is that drinking??) with the Top End Hash House Harriers, reading particularly historical texts, gardening, walking my Kelpie and Dingo cross doggies and international and Australian travel.
I am an active member of the Australian Library and Information Association and meet the best IT minds in the country and positively influence the sector as a National Board Director with the Australian Computer Society. I Chair the National Young IT Board who are an inspiring go get 'em group of young professionals who arrange activities such as the annual Australian Accelerate Your Career conference and mock interviews.
I volunteered for the calender as l love to get involved and make things happen - especially fun activities that assist young people to become aware of the vast roles in IT and provide opportunities for them to achieve their full potential..........regardless of gender, race or financial status.
I currently work as the Manager of Planning and Development with the Community Health Branch of the Department Health and Community Services.